When I tell people that I like domino games, they are often surprised to hear that you can do more than just match the numbers. If you look in a book of games, often with Mr. Hoyle's name on the cover, you might find the basic game and maybe All Fives. If you're lucky, you'll find Chickenfoot and Mexican Train.
This is a collection of domino games and puzzles that will broaden your horizons beyond a chain of dominoes with matching numbers. You'll find new games and puzzles that I designed, as well as some of my favourite domino games and puzzles by other designers.
The book of rules includes problems to solve for each puzzle. The Unmatched Donimoes problems are patterns of dominoes for you to start from, like this: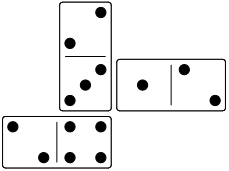 The Dominosa problems are a pattern of numbers to join into dominoes, like this: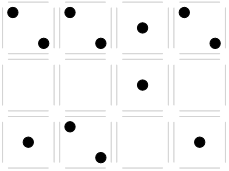 To try the games and puzzles, get a set of dominoes. Then either read the rules, download the PDF, or buy the book. Bonus feature: the book fits inside a standard dominoes tin.
If you're interested, you can read about making donimoes or my design journal. If you're brave, you can read about experiments in progress (PDF).